Conveyancing for Actionstep
Conveyancing Konekta for Actionstep is your one stop shop for managing your conveyancing transaction within Actionstep.
100K+ matters managed via Konekta

150+ Australian Firms using Konekta

370k+ searches ordered via Konekta

Konekta Conveyancing supports Sale, Purchase and OTP transaction types in the one Matter Type for Queensland, New South Wales, Victoria and ACT plus generic templates for other states.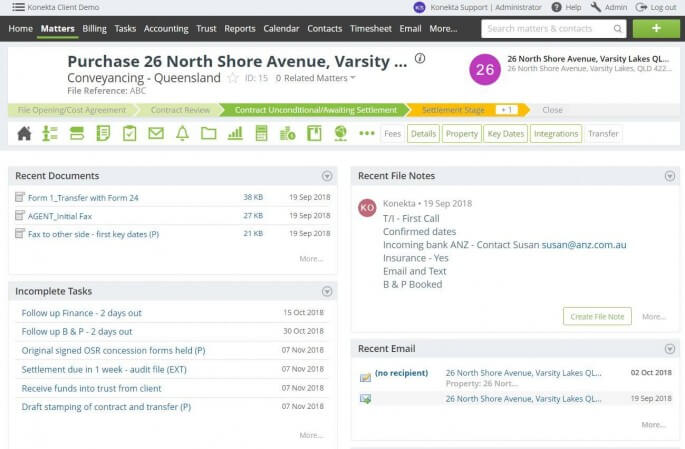 The Conveyancing add-on includes:


Automatic Tasks to help you manage your conveyancing transaction Data fields to record all details of your transaction
Automated Templates & Forms
Stamp Duty Calculator (QLD only)
PEXA Integration

Dye & Durham Integration
---
Conveyancing WorkFlow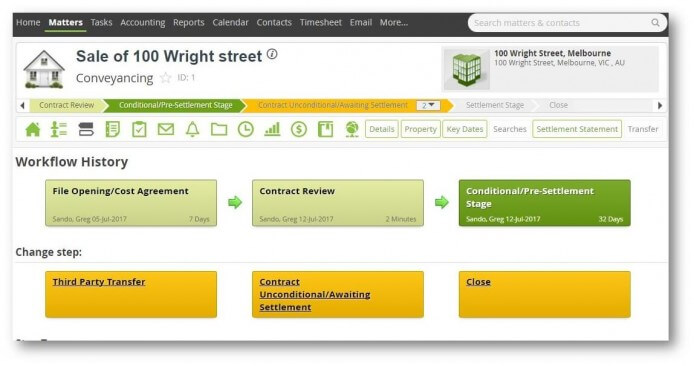 Complete workflow to manage every stage of your transaction.
Fully customisable so you can add additional tasks, steps or automation as you require
Keep on top of your matters and know exactly where you up to and what you need to do next
Conveyancing Parties

All your parties involved in the transaction in one spot! Record everything from the property address to the Otherside, to Council and through to the tenant.
Actionstep will then automatically link all the matters for a given contact so that you can track which Agents and Brokers are providing you work.
Data Fields & Workflow
All the hard work has been done for you with no further setup required within Actionstep.
The Conveyancing Konekta for Actionstep includes over 100 different data points to capture every part of your conveyancing transaction.
These range from Key Dates such as 'Contract Date', 'Building & Pest Date', 'Settlement Date' etc to every possible detail about the property you are transacting such as Lot Number, Title Reference, Safety Switch Installed, to a Pool certificate.
All of these data fields form part of the automation to generate the documents and forms including in the Conveyancing add-on.